Reopening a Business After Shutdown
Buildings and places of business have been shut down for months, quietly waiting for inhabitants to return. As businesses continue to reopen, in addition to concerns about monitoring, preparedness, and prevention for SARS-CoV-2 (the virus that leads to COVID-19), there are other safety risks to be aware of.
Be Thoughtful About Re-Entry – Plan Ahead
COVID-19 has become a constant reminder of many risks we face, but when it comes to buildings and facilities, it shows why they need to be monitored  and maintained. Things like mold and Legionella bacteria, among other health risks, may have propagated in closed buildings and can pose a significant threat. The CDC has recently released new guidelines for reopening commercial buildings after long periods of closure, which recommends flushing air systems, removing stagnant water, and disinfecting high touch point surface areas.  
As we discuss reopening, we will focus on the two main microbial hazards listed above – mold and Legionella. Legionella bacteria can cause Legionnaires' disease, a severe type of lung infection, or pneumonia developed when people breathe in water droplets containing this bacterium. Legionella typically grows during extended periods of inactivity depending on certain factors, including water usage patterns, preexisting Legionella colonization, water temperatures, plumbing factors, and disinfectant residuals. We have more information about Legionella  coming in the next weeks
Mold growth can begin in as little as 24-hours thriving in moist, damp areas. Mold can grow on a variety of building materials such as wood, wallpaper, carpet, drywall, insulation, ceiling tiles, and fabric. With air conditioning shut off and a lack of humidity control, buildings and facilities can present an ideal environment for mold, potentially causing severe health issues in people with weakened immune systems, respiratory conditions, or allergies.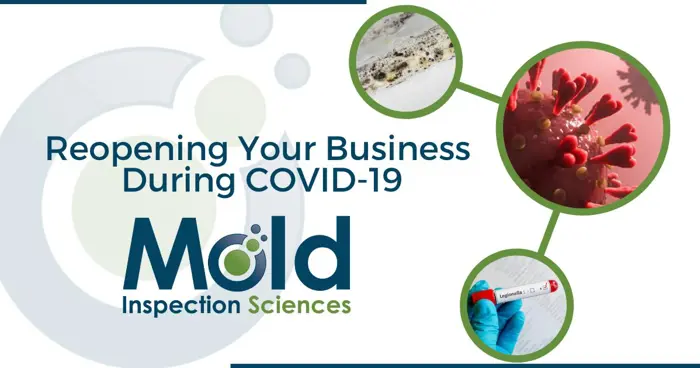 Environmental Risk Assessments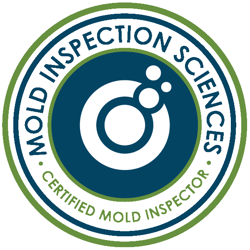 Our inspection and testing services leverage our extensive knowledge of environmental contamination and the conditions conducive to the presence of Legionella bacteria as well as building construction, air flows, building materials, air communication, and HVAC systems (heating ventilation and air conditioning).
FIND OUT MORE
Get Ready
When preparing to reopen, it's important to:
Check, maintain, and flush HVAC systems
If possible, open up to allow for fresh air and sunlight
Maintain indoor temperature and humidity
Take time to do an initial once over – do you smell anything musty or unusual? Do you see any areas of concern like condensation, moisture, or visible mold growth?
Most importantly – have a mold and moisture assessment done to detect and address any unseen issues and areas of excess moisture or water intrusion
Planning ahead allows you and your team to assess the condition of your building, put protocols in place, and retain professionals to help identify and solve issues before full workforce re-entry. In addition to your re-entry game plan, you should consider implementing an Environmental Monitoring Program (EMP).
Environmental Monitoring Program (EMP) and Risk Assessment
Monitoring your building environment can have a variety of benefits and is more than just an initial inspection. Thorough cleaning and continued auditing are vital to reduce the potential growth and further spread of environmental contaminants. An EMP and risk assessment will help you develop the right protocols to limit the impact of these hazards, so your workplace is safe for everyone.
With SARS viruses and the potential for viability on high touch point surfaces over a period of time, it is important to test and confirm if the virus is present in your place of work. An EMP can also validate that your cleaning program is effective. You have protocols in place, you're using the right disinfectants, but how do you know that surfaces are actually clean? Having regular testing and surveying can be a type of quality control that confirms your cleaning process is working effectively. To prevent mold growth, it's important to identify and prevent moisture intrusions and damp areas that can be conducive to mold growth. And similarly, with Legionella, mitigating stagnate, warm water which can lead to colonization, along with laboratory testing for the presence of the bacteria is an import part of an EMP.
Together, surface testing for SARS, mold and moisture assessments, and Legionella testing and monitoring can help to provide a comprehensive risk management plan. Having an EMP and risk management plan can help prove to your team and clients that your facility has been cleaned, tested, and is monitored for environmental hazards. It can also provide the data needed for liability issues confirming that your program and protocols work and that you take the health and safety of your employees and customers seriously..
When you're ready to reopen, we can help confirm that your business and building is as safe as possible for workforce re-entry. Our inspection and testing services leverage extensive knowledge of environmental contamination and conditions conducive to mold, Legionella, and SARS. For more information, visit our Environmental Risk Assessment page, or get in touch with our team
You've Waited Too Long to Hear This!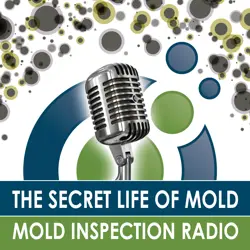 Subscribe Now to Discover Why Listeners Turn to Craig Cooper and the Secret Life of Mold - Mold Inspection Radio Podcast for All Things Mold, Allergies, and Air Quality Issues.
SUBSCRIBE NOW