Thrival Nutrition Podcast With Mike Marshall
With Lahana Vigliano, founder and CEO of Thrival Nutrition
Molds are a natural part of our environment, and we come in contact with many on a regular basis. We eat mold; we breathe mold; we drink it. In fact, our homes and workplaces share territory with mold. Yet, when mold infiltrates those spaces, it can be a big problem for us. Mold doesn't just grow and damage our homes and buildings; it can have an impact on our health and wellness too, with symptoms ranging from a stuffy nose, coughing, wheezing, and eye irritation to chronic illness. There is a lot of information on mold out there, but much of it is incorrect. So how do you even begin to address a mold problem?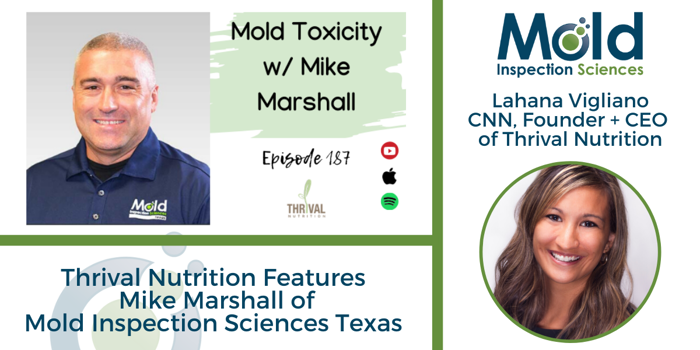 Want to listen to Thrival Nutrition on the go? Click here to listen or subscribe.
The former chief operating officer of Mold Inspection Sciences Texas, Mike Marshall, was asked by Lahana Vigliano, licensed clinical nutritionist, founder, and CEO of Thrival Nutrition, to join her on an episode of the Thrival Nutrition podcast. Together they discuss the basics of mold and mold toxicity and answer some of consumers' most common yet very important questions, including:
Show Notes
3:34 – What is mold? How and why does it grow in homes?
6:30 – What types of mold are there?
7:40 – Can a consumer tell for certain if they do indeed have mold? (Hint: unfortunately, the answer is no.)
8:40 – What are possible signs of mold?
10:05 – How long does it take for mold to grow?
12:14 – How can you prevent mold growth?
15:49 – Testing for mold – is it safe to do DIY testing with a kit?
21:13 – Is DIY mold remediation a solution?
Where to Look and What Questions to Ask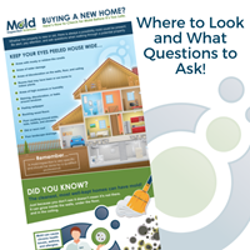 Download our infographic Buying a New Home? Here's How to Check for Mold Before It's Too Late to help you understand where to look and what questions to ask when doing a property walk through.
Buying A New Home Brochure
Take the Next Step
We're honored for the opportunity to have Mike partner with Lahana to help answer questions about mold and dig into what every consumer needs to know. If you or your loved ones suspect mold, don't hesitate to get in touch with a professional mold assessment company. Proceeding with professional help will help save time, money, and the possibility of future mold issues. To get your questions answered or to schedule a mold assessment, call us and get started today.
More Proven Resources Are Just a Click Away
See us help Dr. Phil and his guest determine what's going on in her home or find all of our infographics here.
Get In Touch With Us